Friday, March 31, 2006
(mental block today...maybe after I do this I can actually study... )

Opening Day is April 3rd, which really should be a National Holiday, don't ya think? In honor of that momentous event, on study breaks, I've been reading Baseball blogs, watching Baseball games [a friend gave me a subscription to MLB.TV--can't thank him enough for that--dude, you need an organ at some point in the future--Arnold's got dibs on the kidneys, but anything else...], dusting my McFarlane figures, remembering that coveting is a sin, etc., etc. So I figure for a Friday post, might as well spend a little time talking about the best player around.

Now, it's no secret I'm a Yankee fan, but even if I wasn't, I would be in awe of this man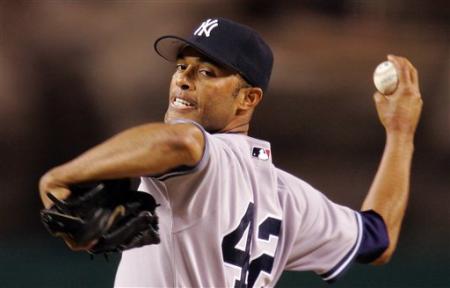 The sight of that man on the mound has got to be one of the worst things an opposing team can see. It generally means that what technically is a 9-inning game has just become an 8. This man, is of course, Mariano Rivera. aka, Mo, The Sandman (time to go to sleep opponents--from his theme song "Enter Sandman"), The Equalizer (from Roger Clemens), The Hammer of God.
His numbers are astounding...check out SI's
nice summary
. Last year alone--43 out of 47 Saves! An ERA of 1.38--his lowest ever.
James Varghese
summarizes last year this way (while
projecting this year
):
Last year, at the tender age of 35, Mariano posted one of his finest seasons ever. If you take out his misadventures against Boston in his first two appearances last year, his line for 2006 becomes: 1.17 ERA, 9.0 K and 1.8 BB per 9, .12 HRs a game and a 5.13 K/BB ratio. He also put up a line that I will never forget. On the road last year, he gave up

one earned run

in 35 innings (that's a 0.26 ERA with a 32/5 K/BB ratio). Maybe it was his decision to forgo pitching in the winter leagues during the offseason, maybe it was the implementation of a two-seam fastball into his arsenal, maybe he just found the fountain of youth. It might be a mixture of all three but whatever he's been doing, I hope he keeps doing it because it's worked.
1 Earned Run in 35 innings on the road! Mind-blowing to say the least. You can understand why Tom Kelley says, "We don't want to face him any more. He's too good. He belongs in a higher league. He should be banned from baseball."
And yet, how does he describe what he does? "I get the ball, I throw the ball and then I take a shower." He's a man of humility, a man of faith. He funded the building of a church in Panama City a few years back, he's said he plans on becoming an evangelical minister when he retires. From a
recent article in The Hartford Courant
:
It is Sunday morning at Legends Field, and Rivera has just come from chapel. His faith is never far from his thoughts, and at this moment he finds himself going through a thick three-ring binder filled with his baseball cards that someone has given him. They date from the early 1990s, when he was just out of Panama and pitching in Class A, and he began reliving it all.

"I've been blessed," he says softly. "You think about it, Mo doesn't have a big frame. Mo doesn't have a big breaking ball, Mo doesn't have different pitches. And yet Mo has done the job all those years. How have I done that? I am that person, and I tell you without God I couldn't have done it. That's why I never talk about myself."

His favorite Bible passage is Philippians 4:13 and he has "Phil 4:13" stitched on his glove.

"You know what it says?" he asks. "'I can do all things through Christ, who strengthens me.' It doesn't say, 'I can do some things.' It says all things."
I love Derek Jeter, A-Rod's great (in the regular season), Bernie's a hero, Giambi impressed the heck out of me in last year's comeback season, Jorge's great. But they're all human, they make mistakes, they have bad plays. I know those same things apply to Mariano, but when he throws a bad pitch, when he loses a game...it's so rare that it's hard to believe. He's just so good, so archetypical, that anyting less than perfection is a shock.
I remember a couple years ago, trying to impress upon Frodo and Samwise the importance of paying attention to him (it was late, they were bored, yet determined to finish watching whatever game it was), "Now guys, this is Mariano Rivera. He's the best at what he does. You probably won't see someone this good again." I love watching any 2 teams play..it's like a great painting or an epic poem (George Will can describe the poetry of the game better than I can, so I won't try), watching the Yankees is a joy, getting to watch Rivera is the best recreation around. And hey, he's the last man to wear number 42: Douglas Adams and Jackie Robinson combined!
I'll toss this back to Varghese from
YanksBlog
to close:
What can possibly be said about Mariano? Perhaps...I wish I had more hands so I could give him 4 thumbs up! No, for Mo, only the highest honor is worthy. That's right:

I Heart Mariano

. Anything less...would be uncivilized.
Sunday, March 26, 2006
Friday, March 24, 2006
Thursday, March 23, 2006
Sunday, March 19, 2006
Friday, March 17, 2006
Thursday, March 16, 2006
Sunday, March 12, 2006
Friday, March 10, 2006
Wednesday, March 08, 2006
Tuesday, March 07, 2006
Sunday, March 05, 2006
Friday, March 03, 2006
Wednesday, March 01, 2006