Tuesday, August 25, 2009
One of the greatest things about blogging is the immediacy of publishing--as soon as an event happens (or even while it's still going on)--descriptions, reviews, photos, etc. can be put out there for the world to see. Which is why I'm just now talking about a two-day event that started 17 days ago.

I am so on top of things.*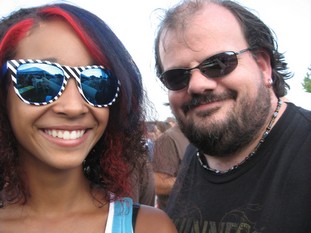 The weather couldn't have been better for this event at Ann Morrison Park--more than warm enough, but not the swelter that August can bring. The weather was a double-blessing in that there were HUGE numbers of people that attended, and the B.O. generated under the beer tents was bad enough already--if it'd been hotter, it probably couldn't turned off more than a few appetites. But it was the perfect setting for a really great local experience. (and yes, I assure you, my underage niece only drank Monster energy drinks, pretty sure she was holding one while I snapped that picture of us)

I've read some criticism of the pricing--token system vs. admission price. I had no problem with the tokens, after buying a $5 sample mug the tokens were $1/ea. which could be traded in for roughly 1/3 of a mug (or a can of Oly...shudder)--I bought the smallest package, and couldn't use them all up, and walked away very satisfied with my intake. We gave our extra tokens to my niece who could turn in 3 for a can of Monster. I should note that I didn't have to shell out anything for my mug as I won mine from a radio station (Thanks BOB!), but The Love of my Life and my sister did, and there were similarly pleased with the value.

I was only there for a few hours, and didn't move around a whole lot so I'm not claiming any sort of exhaustive knowledge, but in the time I was there, we only saw 2 people who'd over-indulged. And the Festival volunteers and Police were quick to assist them out of the area.

We could only come up with a few needed improvements: more chairs, more food vendors (I'm sorry, a 45 min. wait after you've paid for French Fries is inexcusable, no matter how big the plate or how nummy nummy they looked), and more space--I've been in mosh pits with more breathing room--both outside the beer tents and within them. A little wiggle room goes a long way.

Let's see, I think I've covered everything in my disorganized ramble...oh, whoops, I forgot the beer! Here's what I sampled (some more than once):

Mac & Jack's African Amber: I'd had this about 3 years ago when I was in Seattle for a weekend, loved it then. Really enjoyed it now--it was hoppier than I recalled, but still yummy. My sister showed up a few hours after we did and they'd run out by that time--apparently we weren't the only ones to enjoy it.
Budweiser American Ale: based on a recommendation of a friend, I'd been tempted to try this one for a while, but really couldn't bring myself to spend money on an Anheuser-Busch product, so this was the perfect chance for me. It wasn't horrible. Pretty fruity. Can't see myself buying another one, but I probably wouldn't turn down a free one.
Perseus Porter Gave this coffee-ish porter a solid B, and will not hesitate to try it again.
Sierra Nevada's Brown Saison: blech.
Arrogant Bastard Ale I wasn't sure what to try after that disappointment, and then TLomL spotted the banner for Stone Brewing. After reaffirming my love and devotion, I hastened to this line for a couple tokens worth of one of my favorites.
Full Sail Imperial Porter This was pretty good, and I've not had great success with Full Sail beers in the past (never picked the right one), but I'll keep an eye out for this one.
Fire Rock Pale Ale From Kona Brewing Co., maker of the only other beer I've talked about on the blog. This was a pleasant surprise, and definately helped me get over my disappointment in their Porter not being available. I think both my sister and wife went back for seconds and maybe thirds (I would've too if I'd had the time).
Georgetown Brewing Company's 9lb. PorterMy notes on this one read simply, "niiiiice". Truly a shame I didn't have time to try other beers by Georgetown, they looked/sounded great. Even a greater shame that they don't bottle their beers yet so I could buy 'em here.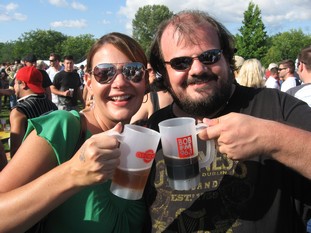 While I was waiting in line for the 9lb., a gentleman in his late 50's/early 60's standing next to me asked if I'd heard of a couple of the other beers from Georgetown and we chatted a bit about how nice the Fest was and how we were both surprised at how many people were there to which he added, "Yup, this makes me think there's hope for Boise yet."
Now, I don't know that I'd go quite that far, but I had a lot of fun and am looking forward to next year's.
*
I really have no idea why it's taken me this long, I sat down to write this 6-7 times before the 10th.
Thursday, August 20, 2009
Wednesday, August 19, 2009
Friday, August 14, 2009
Monday, August 10, 2009
Wednesday, August 05, 2009
Monday, August 03, 2009
Sunday, August 02, 2009