'til we see another one like the Rocket(man)...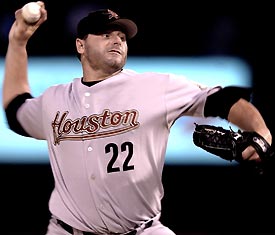 This man is 42 years old--ancient in the world of pro sports--and has had one of the best years of his career. Not bad for a guy who retired at the end of the last season. Thankfully he was coaxed out of it (money and the ability to spend more time at home while satisfying the die-hard competitor would do the trick).
Today he wins his
7th
Cy Young award--his first in the National League. He's now #2 on the all-time strike out list, one win away from tying for ninth in the career win list (328)--twice his number of losses, I should add (328-164), in the last three seasons his ERA has gone
down
4.35 ERA in 2002, 3.91 in '03, and then this year it was 2.98! He's practically better than ever...
Says a lot for what a guy with a heart for his job, a great work ethic--oh yeah, and a great deal of talent can do.
Go Roger!