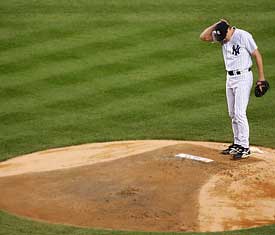 Joe Torre: "None of us want this to happen. We went out there, busted our tails."

Gary Sheffield: "Right now, I'm shocked by the way it all ended. We were one game away, but no one took it for granted. We knew it was going to be tough to close it out."

Bernie Williams: "Those guys kept playing the way we used to play. They have two great horses in Manny and David, but the rest of the team are tough outs, too. They gave our pitchers a run for their money. They just weren't going to be beaten."

All true, but Derek Jeter puts it best: "I haven't even thought about it. It's upsetting to lose, but as far as being the first team (to lose four straight in a postseason series), I couldn't care less about that. They played better than us. That's basically it. You can come up with this or that, but the bottom line is that they beat us."