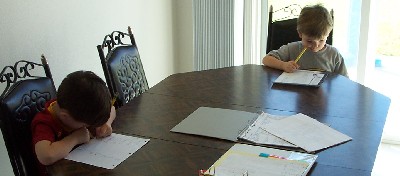 First day of school today...forgot how hard this is (I think Samwise did, too, come to think of it).

First curriculum induced gripe of the year--everything's in cursive for Frodo. Fine, you want to teach him a horribly useless style of writing, okay go ahead. But to have everything in his curriculum (phonics, spelling, etc.) in cursive already on Day 1 seems to be asking too much...part way through the year, you know, when he's had a chance to learn the letters, fine. But to start out with all of his examples in a script he can't read just seems mean.

On the way home from PE today, I was trying to tell him about this, and he replies very matter-of-factly "Oh, that's okay, Mojo Jojo is always saying 'Curses' and 'Curse you,' so I know about it."

Ah, silly me, never mind then...