So yesterday when I said, "there'll be something different [than incessant NaNoWriMo bleating] tomorrow" I was thinking something different. I was just about done with an amusing little post when the whole day went sideways.

Well, technically, it was my van, not the day.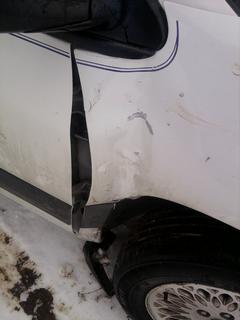 And, technically, it went across the road and did a 180 into a ditch and a fence, not sideways. But why get pedantic?

So you can get a glimpse of most of the damage there. Nothing major. It still drives (I think, need to get that confirmed), but it ain't pretty -- who cares? Makes it more like its primary driver.

The Princess, Arnold and Wonder Mutt were with me, and we're all fine. It took an hour and a half to get us out of there. The kids did well -- Arnold was pretty shaken up, but getting to sit in the tow truck seemed to help.

But that was it for me for the day . . . I couldn't focus, couldn't relax, couldn't work. I was just shot.

oh yeah, and I accidentally increased the font size on my cell phone's text messages and can't figure out how to fix it. Talk about annoying.

What's worse, is that I reacted this way to what's in all likelihood a minor inconvenience. It's just not that big of deal, ultimately.

Speaking of things that aren't big, friend/coworker (well, until he got laid off last month) of mine is going through a tumor scare, he's going in for an operation in a couple weeks. Got an email from him this evening after a consult with the surgeon. Apparently the tumor is of a borderline size. If it's size A, it's a pretty quick, simple, but painful surgery. If it's size B, it's invasive, will require some reworking of an internal system, probably some radiation or chemo, and well, something tells me the pain is in a different Area Code than the other option. What's size B? 2 mm or more.

One more time, that's two millimeters. For you philistines that don't grasp the beauty of the metric system, that's 0.0787401575 inches.

Roughly the size of the head of a pin.

So yeah, I get that little things can mess up your day, and I accept that. It's just that some little things are bigger than others.

like the song says...

Let the headlines wait,
Armies hesitate.
I can deal with fate
But not the little things.